Wednesday, June 24, 2009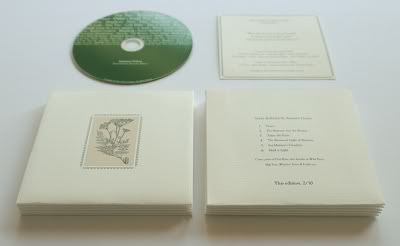 I was thinking of re-posting Autumn Grieve's Terra Infinita EP, which I posted a few months ago on the blog. However then some stuff happened, including a re-release of said EP, so I'll make this a news post.

For those of you who missed the first Autumn Grieve post, she's a Canadian folk/classical singer/composer. Terra Infinita has recently been re-released as a remastered, extended edition, including two songs from the first EP, Another Window. Including the remarkable packaging, it's a great release. I'd advise anyone whom missed the first pressing to pick it up.

Also, a new Autumn Grieve EP entitled Stray Birds has been released in the last few days, the first pressing of which is limited to a tiny 21 copies. Info on both releases can be found in the following places:

www.autumngrieve.com
www.myspace.com/autumngrieve

You can download the original version of Terra Infinita here.